Next post ›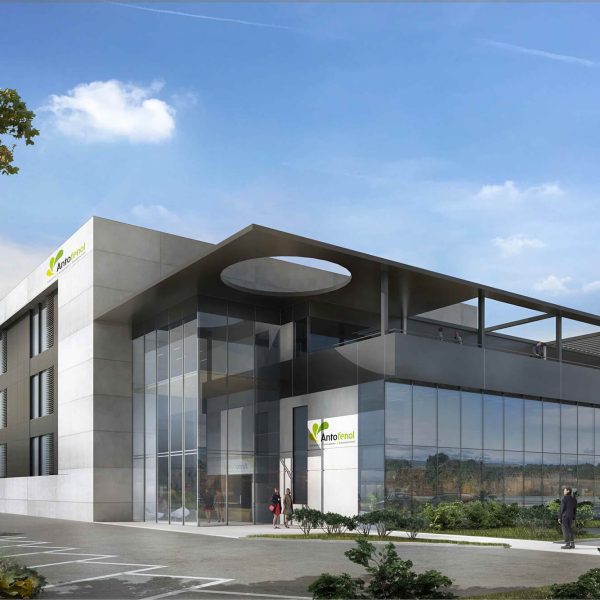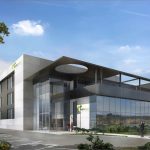 Antofénol is firmly committed to ecological transition through its construction of a zero-waste factory
Nestled in the heart of the Côtes-d'Armor region, our company has been working to provide solutions for the agricultural, cosmetics and food sectors for almost a decade. At a time when the world is focusing more and more on getting back to nature, driven by consumers and a succession of new legislation, Antofénol is expanding its workforce, its premises and its ideas in order to take action for the world of tomorrow. Find out more about Antofénol's history, values and commitments, brought to you by our creator, Fanny Rolet.
Antofénol's story began amongst rows of vines

Antofénol was conceived over a glass of wine
says Fanny Rolet, our CEO It all began while she was studying for her Master's degree in biotechnology. During a conversation with a wine-producer in the Montpellier region, the idea behind the project took shape: making use of the waste produced by wine production through recycling the plant biomass into a biopesticide product. Pruning the vines generates one to two tonnes of wood per hectare per year, so the raw material is guaranteed and wineries discover a new way to increase the profitability of their crops.
The project was officially launched and the first Antofénol laboratory opened its doors within the University of Montpellier, before looking for premises that would accommodate our head office, the pilot factory and our staff. The best solution was found in Plestan, Brittany. Antofénol moved there in 2019, although the microbiological testing and approval processes remained in the Montpellier laboratory.
Spurred on by the desire to take action for the future and by a series of successful fundraising efforts, Antofénol is on the verge of opening a third unit in the town of Le Thor in the Vaucluse region. Our new factory will produce between one and two tonnes of biopesticide product per day, enabling us to achieve sufficient industrial production, particularly for the agricultural market, which is keen to find effective, safe and natural alternatives to pesticides.
Eco-extraction – an innovative technology for farmers and the cosmetics and food industries
As a result of a number of years of research in our laboratory, we have succeeded in achieving our main objective: the ability to extract useful molecules from plants without needing any chemical solvents and providing effective, safe and natural solutions for the various markets that require them. Thanks to our unique process, which combines several extraction processes (microwaves, vacuum and agitation) in the same machine, our laboratories are able to extract the most useful substances from a plant in less than an hour. Antofénol uses its unique expertise to supply the agricultural, cosmetics, perfume and food industries with highly concentrated, customised dry or liquid plant extracts.
Thanks to our state-of-the-art analytical capabilities, we are able to isolate and characterise the different compounds in the plant, in whatever form, and then extract them, using as few resources as possible, to become the active ingredients in your products. Eco-extraction is part of a global trend and is a link in a long chain of stakeholders working towards the same goal: providing solutions that are cost-effective and deeply respectful of the environment and health.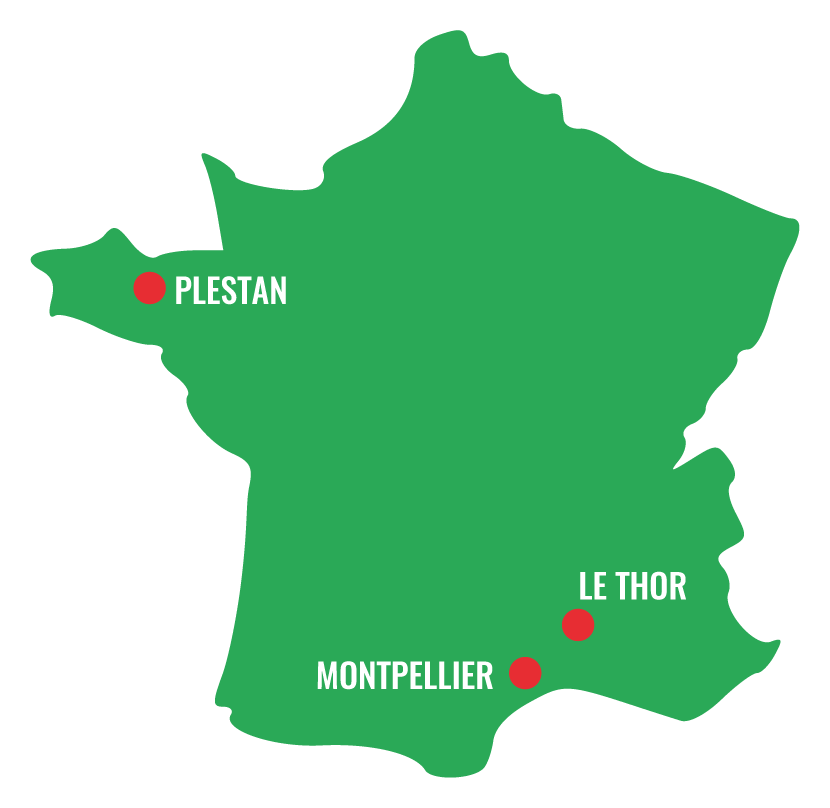 Antofénol now has three main centres
Our company and its mission have convinced many investors over the years. We have thus been able to develop three different research and production centres, located across France.
Our original laboratory in Montpellier marked the genesis of Antofénol when it was founded in 2014. This is where our innovative eco-extraction process was developed. Now focusing on microbiological testing and the approval process for our eco-extraction formulations, our Montpellier branch works closely with the various sectors that Antofénol supplies, as well as with the University of Montpellier, where our founder, Fanny Rolet, studied.
The Antofénol team soon felt cramped in its Montpellier premises and felt the need to establish a second production centre. After searching the whole of France, the company relocated to Brittany. The Plestan site, in operation since 2019, meets all of our needs, both in terms of energy supply and ceiling height, particularly for the installation of our drying towers. The site is home to our headquarters, our R&D laboratory and a pilot factory capable of producing our formulations in semi-industrial quantities. It is also at this site that we ascertain our customers' requirements and extract various plant compounds according to their specifications. Here, we will continue to develop customised services for the cosmetics, nutraceutical and food industries.
The construction of the Le Thor site in the Vaucluse region marks Antofénol's next stage of development. A production facility of more than 6,000 m² will soon enable the large-scale industrialisation of our innovative eco-extraction process. So, what's so special about our new factory? We can produce all our formulations using eco-extraction with a zero-waste policy. At this site, the residues from our eco-extraction operations will be used to create energy which will then be reinvested to power the production process. We will employ 40 staff members at the start of the project in 2024, rising to between 50 and 80 employees over time.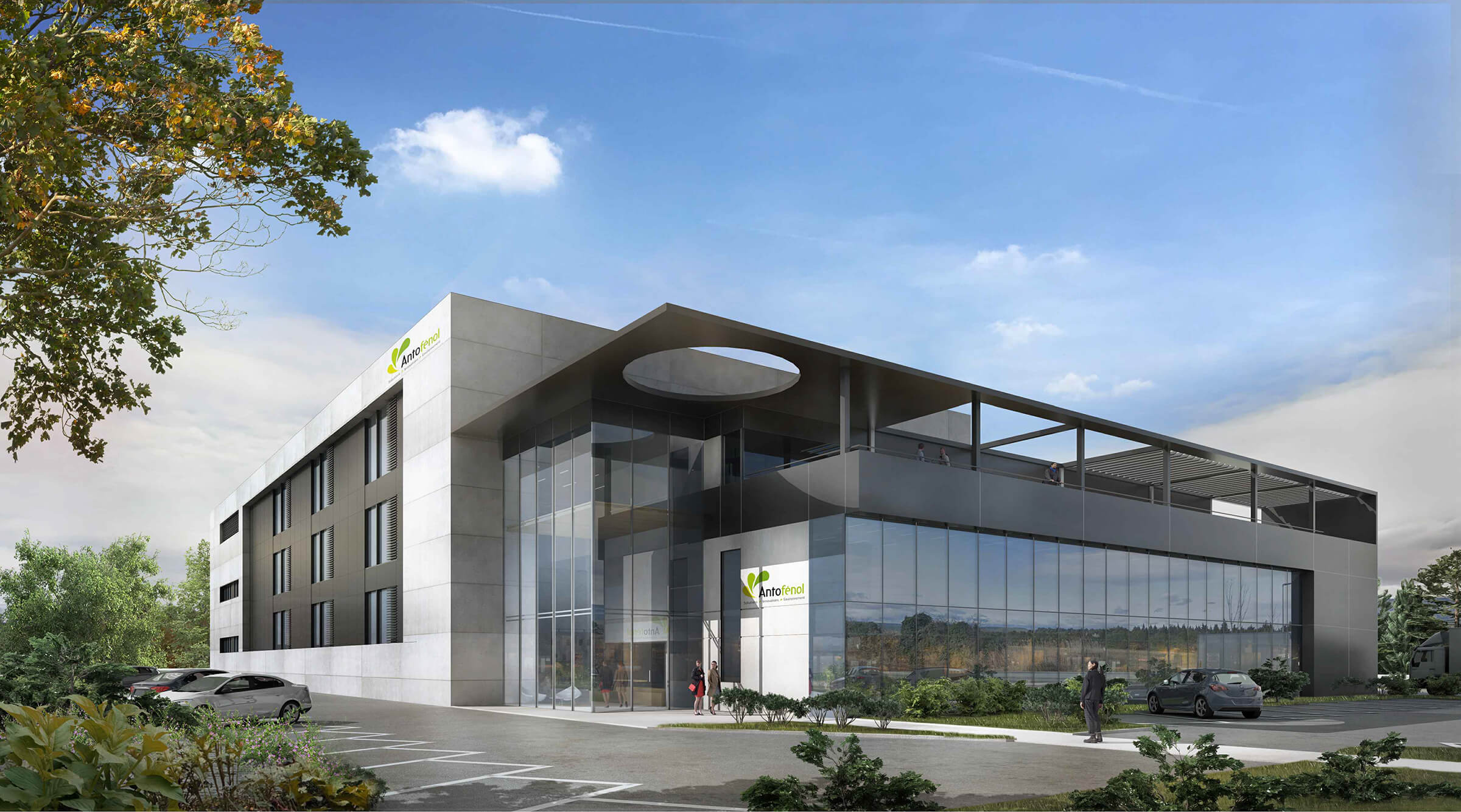 Antofénol – 'the power of nature' taking action today for tomorrow's world
Inspired by nature, Antofénol offers solutions for various sectors that are seeking effective natural alternatives. For example, the withdrawal of phytosanitary products and new legislation urging a reduction in the use of pesticides mean that farmers are struggling to find better alternatives to meet their needs. In creating our company and our eco-extraction solutions, we are helping to make the transition simple and accessible for the agricultural sector. By developing our formulations using eco-extraction, we are boldly and rigorously promoting a whole new vision of industry and economy: production that is as environmentally-friendly as possible and that operates within a circular economy. As a result, the agriculture, cosmetics and food industries in Europe have a unique opportunity to obtain industrial-scale supplies of biopesticide products, functional ingredients, flavours and fragrances.
Innovation is at the heart of all Antofénol's activities. Firstly, with the development of our unique eco-extraction process, we have set the stage for ongoing research and monitoring to optimise current systems. Driven by passion and the desire to keep improving, we use our technical and human resources to develop ever new, useful, powerful and natural technologies that serve a variety of industries, ensuring that from now on the world of tomorrow will be more responsible and environmentally-friendly.
Respect for the environment is reflected in all our practices, whether they involve making natural products available to the agricultural, cosmetic or food sectors or building our new factory with a zero-waste policy. We are convinced that the foundations of tomorrow's world can only be developed in a sustainable way and we want to actively participate in building it now, while preserving natural resources and health.
You may also like to read...